Prestige Portraits by Lifetouch is your official senior yearbook portrait photographer! Our staff of award-winning photographers will work with you to create a variety of images. We work directly with your school yearbook staff and provide images that meet their specifications. We'll take care of the formal wear - bring several outfits and props (sports gear, musical instruments, awards, etc.) to tell your senior story and make this a year to remember! Questions? Click the Contact Us tab to send us a message or for your local studio office phone number. We look forward to seeing you soon!
Chattanooga and Huntsville Studios
Senior Portrait Photography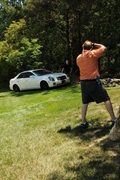 Our Chattanooga and Huntsville studios are open year round. In the summer we are open 5-6 days a week with appointments available throughout the day. In the fall, our photographers go back to school too! Then they will be taking fall yearbook portraits as well as photographing sports and special events, so studio appointments will be very limited. Be sure to be photographed early for the best prices, times and dates available!
Prestige Portraits Chattanooga
6228 Perimeter Dr, Chattanooga, TN 37421
423-892-1332
Prestige Portraits Huntsville
5650 Sanderson St NW Suite G, Huntsville, AL 35805
256-382-2798